Wiltshire Airlines is a virtual airline based in London Heathrow International Airport, United Kingdom flying over 54 flights to 6 continents across the globe. It is the largest airline in the UK on GEFS-Online.
Visit the website at http://wiltshireairlines.weebly.com/
| CEO | CTO | COO | CTO / WD |
| --- | --- | --- | --- |
| Ben B. | Philip Adams | Amir Ali | Chris Ryan / Mateus Cosenza |
Wiltshire Airlines was originally conceived on June 10, 2013 but was founded in its current state and branding on August 11, 2013.
Wiltshire Airlines operates the following aircraft in GEFS: Airbus A380, BAC-Aerospatiale Concorde. Wiltshire Airlines  also operates the following aircraft in FSX: Boeing 777-200LR, Boeing 767-300ER, Boeing 737-700
Detailed information about Wiltshire Airlines' fleet can be found at http://wiltshireairlines.weebly.com/fleet.html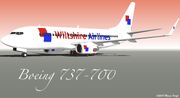 Destinations and Hubs
Edit
Wiltshire Airlines' hub is located in London Heathrow International Airport, the closest major airport to London's city center, located conveniently near Slough in West London. Some well-known destinations from Wiltshire Airlines' long list of destinations include Tokyo, New York, Buenos Aires, Stockholm, Cape Town, and much more. Some recently added destinations to the Wiltshire Airlines list are Seattle-Tacoma International Airport, Dubai International Airport, and Stockholm-Arlanda International Airport.
For the pilots
Edit
Wiltshire Airlines is one of the first (if not the first) Weebly-based airline to implement an awards system for its pilots. The awards system includes awards based on hours, on performance, and on simply loyal service. A rewarding experience for pilots is offered, and after all, no virtual airline can exist without good pilots.
Wiltshire Airlines holds its pilots at its highest priority and is committed to serving them to the best of its ability with support staff available to contact with responses mostly within 24-48 hours. However, most responses take less than 12 hours by email.
Alliances
Edit
Wiltshire Airlines is committed to being an independent entity, is not a member of a virtual airline alliance, and does not plan to join one in the near future.
Ad blocker interference detected!
Wikia is a free-to-use site that makes money from advertising. We have a modified experience for viewers using ad blockers

Wikia is not accessible if you've made further modifications. Remove the custom ad blocker rule(s) and the page will load as expected.