Although you can group the Eugene Virtual FBO under "VA's", it really is not a VA at all. It has no scheduled routes, only flies out of a single airport, and its largest

aircraft can only hold 25 people. That's because it is its own kind of virtual organization. Although the people of Eugene Virtual were not the first to imagine the idea of a FBO-based group, they very well may have perfected the idea. By having a single fixed base of operations, the FBO can focus on its main objectives: flight training, air charter, and general aviation events.
Background
Edit
The FBO was founded in the early months of 2012 as a project between two studen
t pilots. As the organization grew so did the scope of the operations conducted at the FBO. The first major addition the the operations was the virtual civil air patrol squadron which conducts search and rescue operations using general aviation aircraft such as the Cessna 172 and Cessna 182. Soon after several other additions were made including the release of the 2nd version of the website. After that the "It's Time to Fly" slogan was coined and the official promotional video was made. From there on gradual improvements were made to the organization, until early 2013, when the FBO moved to a community teamspeak server, greatly impacting the flow and pace of operations. Still, the FBO steadily grew in size. In early August version 3.0 of the website was released (
http://www.keugvirtual.org
).
Operations
Edit
The FBO is based out of Malhon Sweet (ICAO: KEUG), Oregon. The nearby seplane base OR69 is also used to supplement seaplane operations. KEUG has 2 runways, one of rougly 8,000ft in legnth, and one of 6,000ft. This allows the fleet to operate easily out of the airport.
The FBO's training fleet consists of the following:
The complete fleet of the FBO as of 8/6/12, including all aircraft located at the FBO
Type
Model
Tail Number
Year Built
Cessna
172N
N2095K
1981

Cessna

172SP
N0481T
1992
Piper
PA 34 Seneca
N232KA
1974
Piper
PA 28 Arrow
NW0811
1979

Cessna

208B
N0WT43
2009
Cessna
206 II
N0WK49
1987

Cessna

Citation 10
N283CF
1998

Douglas

DC3
N0483LP
1948
Embraer
Phenom 100
N458PL
1989

Dassault

Falcon 50
N50XY
1982

Glider

ASH25
NB670L
1993

Beechracft

King Air C90
N870SC
1978

Bell

206 Jetranger
N087NP
1987
Bombardier
Learjet 45
N08WE
2001
Robinson
R44
N603DK
2003

Piper

J3 Cub
N068952
1983

Cessna

172N Floats
NS48C
1993
Cessna
172SP
N048CP
1991
Cessna
172SP
N1167CP
1987
Cessna
182T G1000
N451CP
2005
Cessna
182Q
N321CP
1998
Gippsland
GA8
N078CP
1996
Robinson
R22
N732GI
2001
Beechcraft
D18S
N9109R
1938
American Champion
8KCAB
N1098S
2007
Boeing
737-600
N333CC
2011

American Champion

7AC
N125WP
1965
Beechcraft
V35B
N829K
1972
Beechcraft
V35B
N295K
1984
Real World Ties
Edit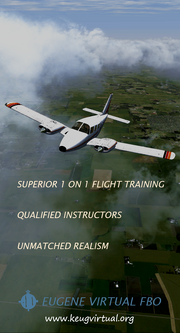 Although the FBO does not officially communicate with any real world FBO's based in Eugene, it does have many real world pilots that fly with the organization. When looked at in May 2012, 80% of FBO members had flown an aircraft before, and 50% has a Private Pilot certificate or better. This extremley high real world pilot ratio is further blosterd by the several resident CFI's that are present within the organization. Although home flight simulator use can never make up for real world training, the "help" that the FBO has provided to student pilots with studying for exams, learning about the aircraft, and reviewing procedures is well documented within the organization.